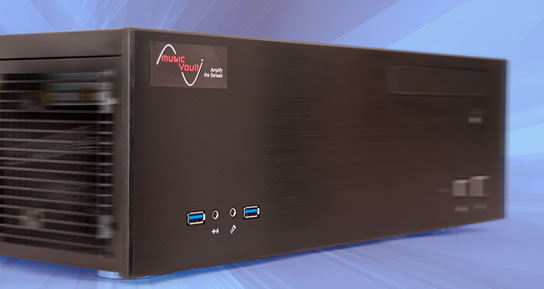 "A Music Server is the Juke Box brought into the 21st Century."
~Neal Van Berg
Neal talks about the Music Vault line of Music Servers.
---
The Music Vault Music Server
Makes your Digital Music sound its best.

Stores massive quantities of music or video; both CD and downloadable files.

Plays pre-configured music selections, i.e. play lists.

Backs up your music automatically.

Plays Internet Radio.

Plays multiple zones of music independently.

Grows with your storage needs.

Changes the way you listen to, and enjoy, music.
Music Vaults, the thoroughbred of their genre, were among the first servers to play back the native sample rate of music, and provide auto duplication to protect stored music. All Music Vaults provide an optical drive for ripping and storing CDs internally. There's also the option to play DVDs allowing your HiFi to play movie soundtracks. Internal storage provides demonstrably superior sound to lan-based NAS storage. In addition, all Music Vaults include 2 USB 3.0 ports, 6 USB 2.0 ports, an eSATA port, an RJ45 Gigabit Lan port, wireless N Wifi, VGA, DVI and HDMI video outputs, and an optical SPDIF digital output.
All Music Vaults come with a 120 GB solid state hard drive which stores the control software. This provides the fastest possible power-up time and enhances the Music Vault's ability to play silently in the background. The 120 GB SSD also allows full use of the 2 TB (or greater) internal hard drives for maximum music storage. Typical storage capacity is in excess of 3000 CDs, although actual capacity is a function of the music's resolution. All Music Vaults include an award winning fanless power supply insuring silent operation.