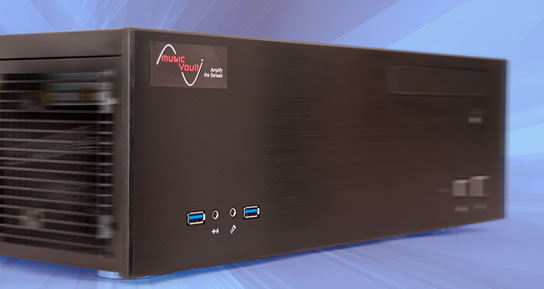 "A Music Server is the Juke Box brought into the 21st Century."
~Neal Van Berg
Video
Interview with Neal at Axpona 2015
A video of my interview with Steve Rochlin from EnjoytheMusic.com at Axpona 2015.
Neal talks about the Music Vault line of Music Servers.
---
The Music Vault Music Server
Makes your Digital Music sound its best.

Stores massive quantities of music or video; both CD and downloadable files.

Plays pre-configured music selections, i.e. play lists.

Backs up your music automatically.

Plays Internet Radio.

Plays multiple zones of music independently.

Grows with your storage needs.

Changes the way you listen to, and enjoy, music.
Music Vaults, the thoroughbred of their genre, were among the first servers to play back the native sample rate of music, and provide auto duplication to protect stored music. All Music Vaults provide an optical drive for ripping and storing CDs internally. There's also the option to play DVDs allowing your HiFi to play movie soundtracks. Internal storage provides demonstrably superior sound to lan-based NAS storage. In addition, all Music Vaults include 2 USB 3.0 ports, 6 USB 2.0 ports, an eSATA port, an RJ45 Gigabit Lan port, wireless N Wifi, VGA, DVI and HDMI video outputs, and an optical SPDIF digital output.
All Music Vaults come with a 120 GB solid state hard drive which stores the control software. This provides the fastest possible powerup time and enhances the Music Vault's ability to play silently in the background. The 120 GB SSD also allows full use of the 2TB (or greater) internal hard drives for maximum music storage. Typical storage capacity is in excess of 3000 CDs, although actual capacity is a function of the music's resolution. All Music Vaults include an award winning fanless power supply insuring silent operation.
It bears repeating that only the Music Vault Music Servers come standard with Automatic Full Duplication of your music on a second internal Hard Drive configured in RAID 1.
The Music Vault can be remotely controled from any computer over the internet, Android Tablet or Phone, or Apple iPad/iPhone/iPadTouch device. Likewise, it can be controled with a laptop, or directly with a keyboard, monitor, and mouse. The Music Vault can also be accessed from any computer on your home network, or web. Initially, upon setup, every Music Vault must attach to a keyboard, monitor, and mouse.
All Music Vaults come with JRiver for best playback software, DBPoweramp for best Ripping software, and LogMeIn for support when you need it.
The Music Vault outputs the native sample rate of the Music stored on it. This is very important, as careful listening tests with discriminating listeners consistently show that the overwhelming majority prefer the sound of non-upsampled music from the digital-out of the Music Server. The Music Vaults were designed from the very beginning to output the native sample rate of the music stored on it and was the first commercially available Music Server to do so.
Music Vaults never become obsolete...they can always be updated or upgraded.
There's a reason Music Vault customers are the happiest Music Server customers. Browse the Feedback on this site or the Sound Science website.
The Music Vault Comparison Chart

Click HERE to Download the Music Vault Comparison Chart PDF

Feedback
January 13, 2014
"I have owned a Sound Science Music Vault Diamond for several years and was very happy to be able to get my old music cds ripped while they still were still in good shape. Some of my oldest cds started to skip and lose a few bits of data and they do fail with age. Getting them to a hard drive allows you to preserve your investment. The major plus with the MusicVault is that the Lynx 16 sound cards have stunning sound, with very high signal to noise ratios and details. Depending on the DAC that you select, the sound can be much better than nearly all cd players.

Now recently Neal Van Berg introduced an improved version, the MV7. This system still uses the Lynx 16 sound card, but adds 64 bit Windows, two extremely fast hard drives with RAID backup, a separate MyCloud backup hard drive and vastly improved system speed and silence. It is now a fanless system which really makes it excellent for discerning the quiet details in the music. It also has a solid state drive and the music plays from the memory, not the regular hard drives. This system has the fastest Windows performance marks I have seen. If you use JRiver, it has a benchmark for system performance and on JMark Ver 19.0.67 I have achieved a score of 5,011 which is a HUGE improvement over the 2,000, I achieved with the older MusicVault Diamond. This speed allows for much more overhead, and less buffers are needed for playback of even 24/192 hi res files and video.

Currently I am using a Straightwire Info Link AES cable from the MV7 and Lynx 16 to a Berkeley Series 2 DAC which has made this the best combination for sound I have ever heard. I have been to CES in Vegas and listened to all the stereo systems recently and can say for source quality, the MV7 is second to none. I cannot believe the clear silence, speed, incredible sound stage and stereo separation that this unit can send to your amp and speakers. I can say it is the best investment in stereo equipment that I have made to date and I highly recommend it to anyone looking to get their cd library ripped and you will not be disappointed in the sound. Neal is also always there for support if needed. I have never heard music quality and details like this anywhere, for any price, now on my system and am glad to recommend this MV7 to anyone wanting top quality sound. You will not be disappointed."
- Kim from Spokane, WA.